Description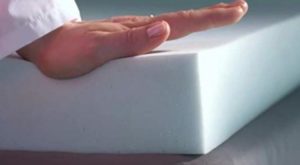 The Peerless Zzzerenity Zp Mattress was our jump into the "Bed-In-A-Box" Which we thought long and hard on how we wanted our mattress to be different, and Peerless from all the rest.  What we came up with was a mattress that SAR Supportive Air Technology providing outstanding support while dramatically reducing pressure on the hip and back area, with up to 4x's more pressure relief, for less tossing and turning and a more rested nights sleep.  The Billion microscopic air capsules act "Air shocks" that help release air from the mattress as pressure increases, allowing for a more individualized comfort, and support.  The Zerene Foam unlike memory foam is more temperature regulated releasing the heat away from your body for a cooler nights.  Our Goal was to build a bed that our customer could start sleeping Peerezzzly within minutes of it being opened. The Zzzerenity A Peerless Bed in A Box!
Bamboo and Viscoelastic cover
3″ of Zerene foam (comfort layer)
7" 1825 foam, 1.8 density, 30 lbs. compression
We know that sometimes as a shopper you need more items than you have money for at the time. That is why Peerless Mattress is proud to offer financing through Synchrony Financing.
Financing is currently only available for in-store purchases.
Our Financing Includes:
0% Down
No Interest
As little as 6 month up to 60 months terms
Monthly payments required
NOTE: When applying in person – Two types of I.D. are required, and one must be photo I.D. When using a co-signer, both parties must be present with photo I.D. Peerless Mattress Co. finance promotions on occasion will require money down – please see sales associates for details.