Helping Generations Sleep.
Peerless Mattresses are designed and engineered with the most advanced comfort technology, using the finest components available, carefully handcrafted, right here in Michigan. At Peerless, we put more quality components and less advertising and overhead costs in our mattresses, saving you 30% to 35% over national brands.
The Peerless Mattress Company brings your custom Michigan made Mattress directly to you, straight from our factory to your bedroom, eliminating the middle man and Providing a Peerlezzz night's sleep, since 1926.
Visit Peerless Mattress Company at 4215 Miller Road, Flint, MI, in the Valley Plaza, today, and discover why generations of mid-Michigan families comfortably sleep on a Peerless Mattress. Allow our experienced, highly trained staff to help you save money, finding your perfect sleep solution, with a stress free and low pressure buying experience to help you find the right mattress, and not just a mattress.

---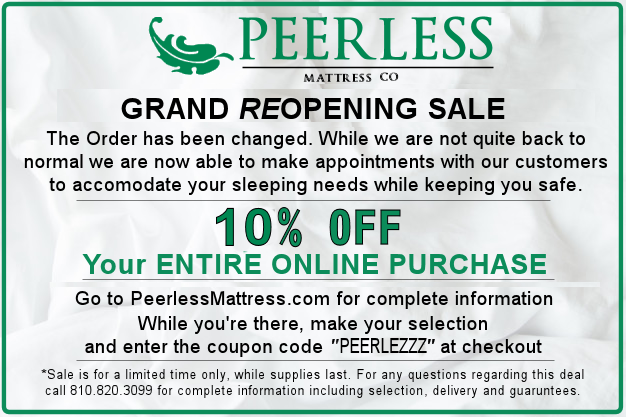 We are encouraging our customers to shop and browse our website before your appointment
to make the most efficient use of your time. You can even make your purchase online to
take advantage of the 10% off of your online order, then make an appointment to come in to
verify that you are happy with your selection, before taking delivery of your new mattress.
---
Your browser does not support the video tag.

THE PEERLESS MATTRESS COMPANY

FLINTS MATTRESS BRAND
---
Peerless Comfort Indicator Feather
Each Peerless mattress has a Peerless Comfort Indicator Feather representing
on a scale how firm or soft a particular mattress is.

---
Why Should I Replace My Mattress?
It's no secret that sleep is important! A good night's sleep can help you:
• Reduce stress
• Increase memory function
• Increase concentration
• Build a stronger immune system
Not to mention your old mattress has collected literally pounds (yes, pounds) of dust, dirt, dead skin cells, and dust mites over the years.
If your mattress is more than 5 years old, you may want to consider an update!
---
Why Replace your Mattress with a Peerless Mattress
Hand-crafted beds
Made in Michigan in our Lansing factory
Only the highest-quality Materials Used

American-sourced materials Only

Sold and built directly for you.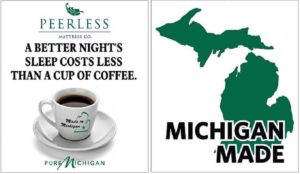 ---
Site Secured by Comodo